Agenda
I. Join the Meeting Remotely
Description:
The public is invited to attend the meeting remotely. Information to join the meeting is below. Join from a PC, Mac, iPad, phone, or android device.
https://youtu.be/1dLJBbf19Zo
If you would like to address the Board of Education, please send your written comments to addresstheBoE@d91.net by 5:00 pm on the evening of the meeting. Please include your name as part of your remarks.
V.A. D91 Parent Teacher Organization (PTO)
V.C. D91 Parent Athletic Association (PAA)
V.D. Invitation to Address the Board of Education
Description:
Description:
Description:
Per Policy 2:230 Public Comments at Board of Education Meetings and Petitions to the Board
At each regular and special open meeting, the members of the public and District employees may comment on or ask questions of the Board, subject to reasonable constraints.
The individuals appearing before the Board are expected to follow these guidelines:
Such a person shall submit a request in writing to the Board Secretary to address the Board. Such a request shall be received at least five (5) working days prior to the Board meeting and shall include said reason for the request.

At the meeting, a person who has complied with number 1 above shall inform the Board Secretary of his/her presence at the meeting.

Address the Board only at the appropriate time as indicated on the agenda and when recognized by the Board President.

Identify oneself and be brief. Ordinarily, such comments shall be limited to five minutes. In unusual circumstances, and when an individual has made a request in advance to speak for a longer period of time, the individual may be allowed to speak for more than five minutes.

The Board President may shorten or lengthen an individual's opportunity to speak. The President may also deny an individual the opportunity if the individual has previously addressed the Board on the same subject within the past 2 months.

The Board President shall have the authority to determine procedural matters regarding public participation not otherwise defined in Board of Education policy.

Conduct oneself with respect and civility toward others and otherwise abide by Board policy, 8:30, Visitors to and Conduct on School Property.
Petitions or written correspondence to the Board shall be presented to the Board of Education in the next regular Board packet unless the Superintendent deems the matter to be urgent.
VI. Staff Recognition
Description:
We will be recognizing our 2021-2022 Years of Service Awards for the following staff members:
Five Years
Athena Dingels
Linda Hollands-Clinton
Michelle Hughes
15 Years
Tammy Latham
Michaelene O'Halloran
Colleen Preboy
Lia Ditter
20 Years
Jim Pierson
Cindy Walsh
Dianna Skoczek
Maria Farina
Sally Anderson

25 Years
Sarah Randolph

VII. Student Recognition
Description: We will be recognizing the MG Early Learners PK students, KG students of the month, and the Robotics Club.
VIII. Approval of Consent Agenda
The Consent Agenda is a list of routine non-controversial items, which do not require further discussion and which are approved with one motion and one roll call vote. It is an effective procedure to handle routine matters on the agenda expeditiously. All consent items shall be listed with an asterisk(*) and will be enacted with one motion. However, any member of the Board of Education may request that an item be withdrawn from the Consent Agenda and discussed in its regular order.
VIII.A. Approval of Minutes *
VIII.B. Approval of Financial Reports
VIII.B.1. Payment of Bills (online)*
VIII.B.2. Monthly Financial Reports (on-line)*
VIII.B.3. Activity Accounts*
VIII.B.4. Treasurer's Report*
VIII.B.5. Investment Report*
VIII.B.6. Flexible Spending Account*
VIII.C. FOIA Report *
Description: We have not received any requests for information under the Freedom of Information Act since the March 2022 meeting of the Board of Education.
VIII.D. Suspension Report *
Description: Attached is the suspension report for Kelvin Grove and Milne Grove for the month of March 2022.
IX. Board Reports/Discussion Items
IX.A. Finance Committee Update
IX.B. Building & Grounds Committee Update
X. Reports of the Superintendent
XI.A. Personnel Report
Description: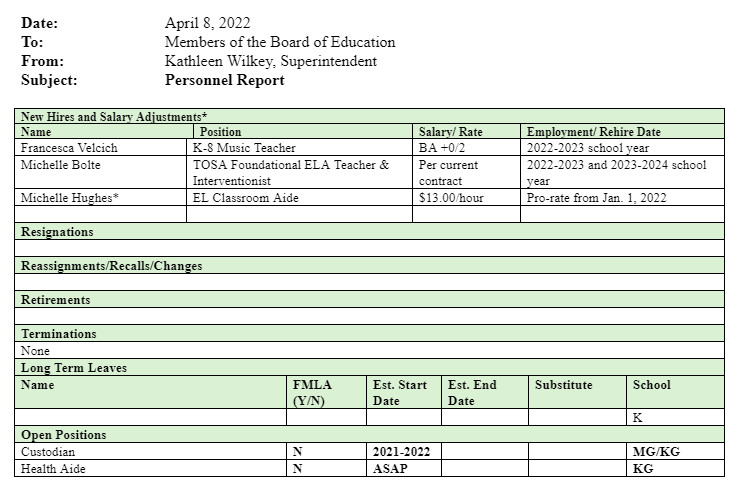 XI.B. Posting for Temporary Full-Time Summer Custodial Help
XI.C. Post Notice of Hearing for 2022 Budget Amendment
XI.D. Tentative Summer Camps
Description: Kelvin Grove Girls Summer Basketball Camp
Dates: June 6- June 7, 2022
June 13- June 16, 2022
Time: 12:00- 2:30 p.m.

Kelvin Grove Boys Basketball Clinic
Dates: June 20- June 23, 2022
June 27- June 30, 2022
Time: 12:00- 2:30 p.m.

Kelvin Grove Softball Camp
Dates: July 18- July 21, 2022
Time: 9:00- 11:00 p.m.


XI.E. Approval of Contract to Sealcoat the Parking Lot at MG
XI.F. Approval of Contract to Resurface both KG Gymnasium Floors
XII.C. Legislative Report
XIII. Closed Session
Description:
The appointment, employment, compensation, discipline, performance, or dismissal of specific employees of the District or legal counsel for the District, including hearing testimony on a complaint lodged against an employee or against legal counsel for the District to determine its validity. [1] However, a meeting to consider an increase in compensation to a specific employee of a public body that is subject to the Local Government Wage Increase Transparency Act may not be closed and shall be open to the public and posted and held in accordance the [the Open Meetings Act]. 5 ILCS 120/2(c)(1), as amended by P.A. 99-646
Collective negotiating matters between the District and its employees or their representatives, or deliberations concerning salary schedules for one or more classes of employees. 5 ILC 120/2(c)(2).