Agenda
I. Join the Meeting Remotely
Description:
The public is invited to attend the meeting remotely. Information to join the meeting is below. Join from a PC, Mac, iPad, phone, or android device.
Streamed:
https://youtu.be/_4kHlYO_oEQ
Call in: +1 631-910-9159 PIN: 493 966 637#
If you would like to address the Board of Education, please send your written comments to adresstheBoE@d91.net by 5:00 pm on the evening of the meeting. Please include your name as part of your remarks.
IV. Public Hearing - FY21 Budget Amendment
Description:
A Board of Education may amend the district budget by following the same procedures required for adopting a budget (notice, budget on display, hearing). We have met all of these requirements.
The budget amendment recommended for adoption reflects the following: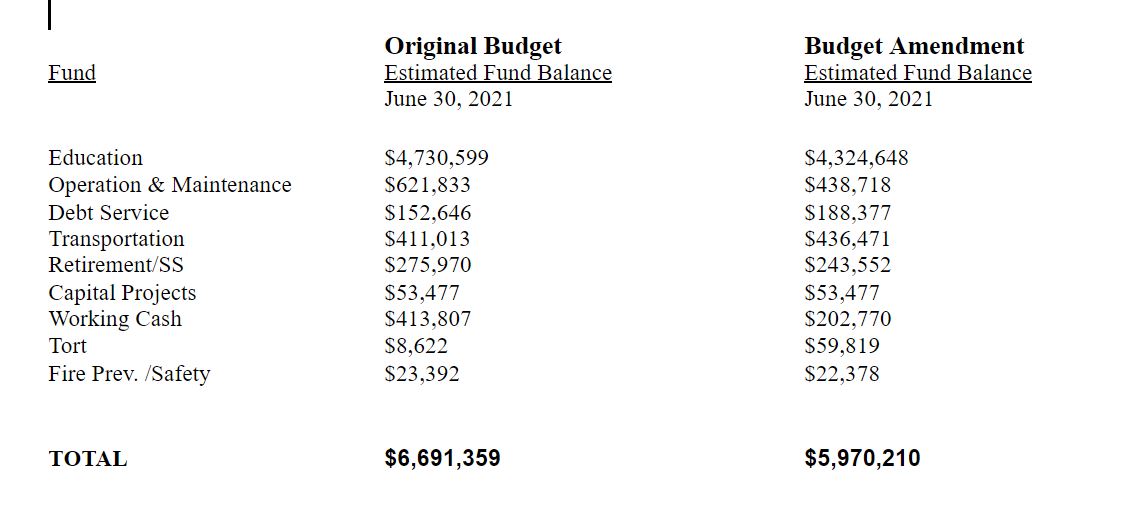 The decrease in expected fund balances is due to the county implementation of 4 property tax payments instead of the normal two. We expect to see a large decrease in the expected property tax payments that will hit FY21. These dollars will hit FY22. It should be noted that there is a possibility we may see even lower amounts than included in the budget estimates.
VI. Approval of Consent Agenda
The Consent Agenda is a list of routine non-controversial items, which do not require further discussion and which are approved with one motion and one roll call vote. It is an effective procedure to handle routine matters on the agenda expeditiously. All consent items shall be listed with an asterisk(*) and will be enacted with one motion. However, any member of the Board of Education may request that an item be withdrawn from the Consent Agenda and discussed in its regular order.
VI.A. Approval of Minutes *
VI.B. Approval of Financial Reports
VI.B.1. Payment of Bills *
VI.B.2. AP Check Register*
VI.B.3. Monthly Financial Reports (on-line)*
VI.B.4. Treasurer's Report*
VI.B.5. Investment Report*
VI.B.6. Flexible Spending Account*
VI.B.7. Activity Accounts*
VI.C. FOIA Report *
Description:
Since the May meeting of the Board of Education there has been one request for information under the Freedom of Information Act.

From: Bernadette Soto, with the Chicago Regional Council of Carpenters.
Request:
1. The executed contract between Lockport District 91 and Veterans Flooring for FY 2019.
2. Any correspondence such as e-mails, submittals, certified payroll and pay out requests.
3. Any documents disclosing and or identifying general contractors/subcontractors.
4. The school's work was performed for the FY requested.
5. Any request(s) can be provided electronically to bsoto@carpentersunion.org.
Received: May 19, 2021
Completed: May 25, 2021
VI.D. Suspension Reports*
Description:
The Kelvin Grove suspension report for May 2021 is attached for your review. There were no suspensions at Milne Grove School.
VII. Invitation to Address the Board of Education
Description:
Per Policy 2:230 Public Comments at Board of Education Meetings and Petitions to the Board
At each regular and special open meeting, the members of the public and District employees may comment on or ask questions of the Board, subject to reasonable constraints.
The individuals appearing before the Board are expected to follow these guidelines:
Such a person shall submit a request in writing to the Board Secretary to address the Board. Such a request shall be received at least five (5) working days prior to the Board meeting and shall include said reason for the request.

At the meeting, a person who has complied with number 1 above shall inform the Board Secretary of his/her presence at the meeting.

Address the Board only at the appropriate time as indicated on the agenda and when recognized by the Board President.

Identify oneself and be brief. Ordinarily, such comments shall be limited to five minutes. In unusual circumstances, and when an individual has made a request in advance to speak for a longer period of time, the individual may be allowed to speak for more than five minutes.

The Board President may shorten or lengthen an individual's opportunity to speak. The President may also deny an individual the opportunity if the individual has previously addressed the Board on the same subject within the past 2 months.

The Board President shall have the authority to determine procedural matters regarding public participation not otherwise defined in Board of Education policy.

Conduct oneself with respect and civility toward others and otherwise abide by Board policy, 8:30, Visitors to and Conduct on School Property.
Petitions or written correspondence to the Board shall be presented to the Board of Education in the next regular Board packet unless the Superintendent deems the matter to be urgent.
VIII. Board Reports/Discussion Items
VIII.A. Review of Board of Education Agreements
Description:
In 2005 the Board of Education, after participating in a self-evaluation program through Illinois Association of School Boards, developed and approved the attached Board of Education Agreements. Since 2005 the Board has annually reviewed the Agreements to determine if they are applicable and/or need revisions.

Please review the 2020-2021 Agreements. Tuesday evening the board will discuss any changes and/or additions members would like to make for the 2021-2022 school year. In July, the document, including agreed upon changes and/or additions will be brought back as an action item for board approval.
VIII.B. Student Proposal to Add Chess Club
Description:
Mr. Jennings has been approached by a group of students from Student Council who have requested to be added to the Board of Education agenda to discuss the possibility of adding a chess club to the clubs offered at Kelvin Grove. Students will present their proposal Tuesday evening.
If the Board would like to add this club, it will need to be on the July agenda.
VIII.C. Planning for the 2021-2022 School Year - First Reading of Policy
6.185
Description:
Tuesday evening we will discuss the resolution passed by ISBE and the implications for the 2021-2022 school year. I have attached a summary of the information we have been provided as well as a draft of Policy 6.185 for the board to consider. Changes can be made to the policy as the Board sees fit and then approved at the July meeting. This will allow the administrative team time to plan and inform parents of procedures for the 2021-2022 school year.
IX. Reports of the Superintendent
IX.A. Update on State Funding
Description:
To provide the most current information, members will be provided a complete summary of dollars owed to District 91 from the State as a part of the information provided Tuesday evening.
IX.B. Emergency Connectivity Fund
Description:
The Emergency Connectivity Fund (ECF) is a one-time, $7.171 billion program, authorized by the American Rescue Plan of 2021. It provides 100% reimbursements of eligible remote learning expenses, up to a specific amount based on the item, for K-12 schools and public libraries. The ECF will be administered by the Universal Administrative Company (USAC), leveraging much of the same infrastructure currently used to manage the E-rate funding program for schools and libraries.
The initial Emergency Connectivity Fund filing window will cover purchases made between July 1, 2021 and June 30, 2022. Mr. Kincaid has proposed that the Board consider purchasing new teacher laptops in FY22. Our original replacement schedule was in FY23 but it would be worthwhile to submit this for consideration (up to $400 per unit) and if approved, purchase the laptops a year early, with an estimated savings to the district of approximately 50% ($20,000).
If funding is still available after the initial period, they will open up a window for costs incurred between March 2020 through June of 2021. If this occurs, we will submit for reimbursement (up to $400.00 per unit) for the Chromebooks we purchased this school year. This could result in a reimbursement of $100,122.
There are no dates yet for the filling window, but the FCC ordered USAC to open it "as soon as practicable". It will be open for 45 days, and after it closes, USAC will process and start issuing reimbursements It is likely we won't see any funds until July/August. If demand is greater than the budgeted amount for this program then preference will be given to districts with a higher E-rate discount rate, which is based on their FRL percentage.
Bryan will be keeping a close eye on this so District 91 can file for reimbursement. Once we know our request is accepted an action item to purchase the teacher laptops would be brought to the Board for approval.
IX.C. FSA Plan
Description:
Assurance has taken over as the broker of record for the Lincolnway Area Affiliation (Health/Life Insurance Cooperative). As part of this change, we will be moving our Flexible Spending Account (FSA) from PBA to Assurance. This is a cost savings measure for the district. It will not change participants' benefits other than they will be issued a new card.
IX.D. Tentative Budget for 2021-2022
Description:
The District budget for 2021-2022 must be adopted prior to September 30th. I am working on the 2021-2022 budget to ensure all known information is included. Grant expenditures and revenues, beginning fund balances, any additional expenditures not approved and signed before June 30, will need to be added before the tentative budget can be finalized and put on display.
The tentative budget must be on display for the public, with a notice in the Herald Newspaper (August 12), for 30+ days. It is recommended that the tentative budget be on display beginning August 13, 2021 through September 13, 2021 with the final adoption by the Board taking place, after a public hearing, on September 14, 2021.
IX.E. SVPP 2021 Budget Narrative
Description:
In February, the Board of Education gave approval for Mr. Pierson to submit the SVVP 2021 grant application. I have attached a summary of the budget narrative provided by Mr. Pierson.
These numbers may change slightly as Mr. Pierson is waiting on a couple of updated quotes, as some of these are from last year. Additionally, it should be noted that we have three years to spend the funds, so the local portion would not need to be budgeted all in one year.
IX.F. Review Planning Document
Description:
June
1 Milne Grove Field Day
2 Eighth Grade Graduation
3 Kelvin Grove Field Day
4 Last Day of Student Attendance & 3rd Grade Event
7-17 Girls Basketball Camp 12:00-2:30 pm
14 Summer Learning Camp Begins 8:30-11:30 am
21-24 Boys Basketball Camp 12:00-2:30 pm
28-July 1 Boys Basketball Camp 12:00-2:30 pm
30 Mrs. Gray's last day
July
5 No Summer Learning Camp (July 4th Holiday Observed)
9 Summer Learning Camp Ends
12-16 Technology Camp
19-22 Softball Camp 9:00-11:00 am
20 Board of Education Meeting KG LRC 7:00
X. Closed Session
Description:
The Board will need a motion and second to enter into closed session for the purpose of:
The appointment, employment, compensation, discipline, performance, or dismissal of specific employees of the District or legal counsel for the District, including hearing testimony on a complaint lodged against an employee or against legal counsel for the District to determine its validity. [1] However, a meeting to consider an increase in compensation to a specific employee of a public body that is subject to the Local Government Wage Increase Transparency Act may not be closed and shall be open to the public and posted and held in accordance with the [the Open Meetings Act]. 5 ILCS 120/2(c)(1), as amended by P.A. 99-646.
We will review the support staff evaluation ratings and pay rates/increases for next year. I will review this confidential information with members Tuesday evening in closed session.
XI.A. Resolution Authorizing Inter-Fund Loans from the Working Cash Fund to the Debt Service Fund and the Tort Fund
XI.B. 2020-2021 Budget Amendment
Description:
In
April

, the Board approved putting an Amended Budget on review for 30 days

and posting the required notice regarding the budget hearing this month.

The tentative budget amendment was reviewed in May and put on public display. All changes made have been recorded and

presented

as a part of the bu

dget hearing.
XI.C. Property/Casualty/Student Accident/Fiduciary Insurance Renewal ($39,320)
Description:
With respect to the property/casualty premium, the Loss Fund is fully funded for both the package and the School Board Legal Liabilities coverage. The total approved premium increased from $33,669 to $37,170 (
10.40

%). This increase in large part is due to

the increasing demand for cyber liability/identity theft coverage.

The policy premium for Fiduciary Liability increased from

$

2,050 to

$

2,150 (4.88%).
XI.D. Building Use Rate for 2021-2022
Description:
The last several years the Board has decided to maintain the building use rates as shown below:
Class I Organizations - the building fee is waived.

Class II Organizations - building fee is waived when a custodian is on duty.

Class III Organizations -the building fee is $50.00/hr.

Class IV Organizations - the building fee is $100.00/hr.
Board Policy #8:20 states that the Board will evaluate and establish the building use rate annually. For the past several years, the district has not charged the District 91 Parent Athletic Association (D91PAA) a building use fee for the two weekends of the Holiday Tournament and has allowed the association to reimburse the District the cost for one custodian to open and close the building each day of the tournament and assist with any last-minute details and cleanup needs. Similar arrangements have been made with the PTO and the D91 Foundation.
We currently
do not have any

non-affiliated organizations renting building space. Thrive Church, due to COVID, and

changes

within their

organization, have not

utilize

d

the building

this year.
XI.E. Authorize Superintendent to Add Class Sections and Hire Personnel as Needed
Description:
We will be registering students throughout the summer months. I am requesting that the Board provide
the Superintendent

the authority to add class sections and hire personnel as needed throughout the summer. Sections will only be added if needed (i.e., the class size exceeds the board's recommendation, or the administration believes that the class size is so large it will impede students' ability to learn in the classroom).

Members will be kept

abreast of class size changes throughout the summer. All h

ires will be brought to the Board as part of a regular meeting, since there will be a July meeting this year.
XI.F. Estimated July Accounts Payable ($450,000)
Description:
Since the July 2021 meeting is later in the month, I am asking the Board to approve the payment of all bills due in July prior to the meeting. The estimated expenditures for July would include the normal monthly bills, bills for
facility

work,

grant expenditures

, student consumables

,

curriculum resources, software licenses, purchased services, and general office supplies.
XI.G. Estimated July Payroll ($133,150)
Description:
This recommendation is based on the Board typically not meeting in July. Although this year the Board will meet, Ms. Garrett asked that I include this topic as a reference for Dr. Wilkey
for

future meetings. I am asking the Board to approve in advance, payment of the July payroll, including health insurance premiums, federal and state taxes, IMRF, THIS, and TRS contributions.
XI.H. Processing of All Summer Purchase Orders
Description:
Each summer, we purchase all needed consumables, textbooks, supplies, etc. for the upcoming school year. This year is no different. Requisitions are being completed and purchase orders will be sent to vendors
at the end of June

.
XI.I. Personnel Report
Description: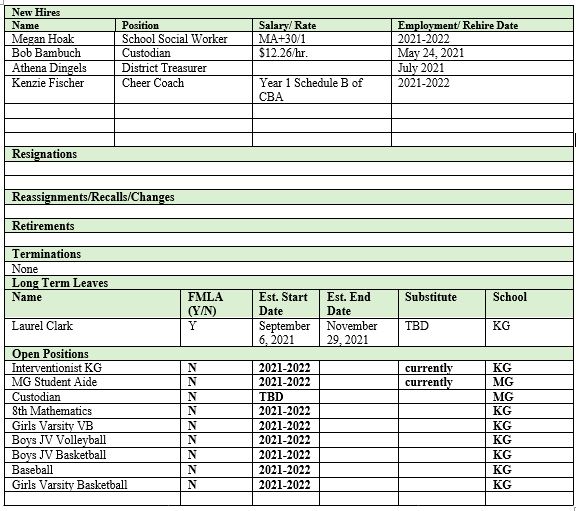 XI.J. Continued Employment of Support Staff and FY22 Rates
Description:
All non-certified staff receive performance-based evaluations and rate increases. I am recommending that the Board approve a rate increase maximum of 2.5%, which is the same as our teachers will receive under the collective bargaining agreement.
Individual employee rate increases will vary based on their performance rating, but no increase will exceed 2.5%. A copy of individual rates will be provided during the closed session.
XI.K. Multi-Year Contract Rates for FY22
Description:
Tuesday evening as a part of the closed session we will discuss the FY22 rates for individual multi-year contracts. Each of these employees are 12-month employees who have worked tirelessly through the pandemic. In addition, these key employees continue to work with me as a team to prepare for the pandemic uncertainties of next year.
Individuals with multi-year contracts are:
John Jennings

Bryan Kincaid

Jaime Koziol

Jim Pierson

Erin Rae
XI.L. Stipend for Grant Coordination FY22
Description:
Mrs. Koziol has for the past several years written, managed, and prepared all related state reports for the Early Childhood Grant and the three (3) ESSA grants (Title I, Title II, and Title IV), the consolidated district plan, and foster care transportation plan. This past year she has also written and submitted reports for the Emergency Relief Grant (CARES) I and II.
Beginning with the 2021-2022 school year, Mrs. Koziol will be writing and submitting all reports to the state for the Emergency Relief Grant III and the three IDEA (special education grants) that I have managed during my tenure. The amount of time dedicated to these programs is substantial (writing of the grant, tracking, and recording all expenses and goal progress for each grant submitted to ISBE, quarterly periodic reports, expenditure reports, preparing for state and federal audits). For the past several years the district has provided a stipend for this work to Mrs. Koziol. Last year the stipend was $8,828.
XI.M. Coaches and Club Sponsors for the 2021-2022 School Year
Description:
Mr. Jennings has recommended the following coaches/sponsors for the
2021-2022

school year.
Program
Sponsor(s)
Art Club Jessica Cravens
Band Nicole Plagman
Boys 8
th
B-Ball
Michael Lindstron
Boys 7
th
B-Ball
TBD
Girls 8
th
B-Ball
TBD
Girls 7
th
B-Ball Sally Anderson
Boys Baseball
TBD
Assistant Baseball Coach Scott Waxweiler
Cheerleading
Kenzie Fischer
Chorus Sarah Randolph
Drama Joelle Kasprisin
Jr. Beta
Nicole Dickson
Math Team
Colton Burdette
Nature Club Brittany Schaller
Science Club Michael Lindstrom
Debate Club Dianna Skoczek
Robotics Club Jessica Lakics
Student Council Christy Soulian
Girls Softball Sally Anderson
Assistant Softball Coach
Heidi Waxweiler
Track Sally Anderson
Track Nicole Dickson
Track
Colton Burdette
Track Heidi Waxweiler
Boys 7th V-Ball TBD
Boys 8
th
V-Ball
Colton Burdette
Girls 8
th
V-Ball TBD
Girls 7
th
V-Ball Colton Burdette
Yearbook Jessica Cravens/Marcie Stateman
XI.N. Disposition of District Property
Description:
Every summer as we are preparing the schools for the fall reopening, we identify items that are either beyond repair, unsafe for use, or beyond their useful life.
350 Chromebooks and 100 monitors are among the items identified as beyond their useful life.
Mr. Kincaid has reached out to a couple of companies about Chromebook buyback and received mostly similar pricing from them. The two main choices he considered were AG Parts, the company from which we buy parts and ARCOA Group. Mr. Kincaid recommends we sell to the ARCOA Group as they will also pick up the monitors, allowing us to dispose of more useless hardware we are currently storing.
In total, we will be disposing of approximately 350 Chromebooks and 100 monitors. They have quoted $4000 for the Chromebooks alone. Mr. Kincaid is holding on to 30 Chromebooks that are in the best condition to
be used as spare devices.
XI.O. Substitute Rates for FY22

Description:

XI.P. Quote for Sealing KG Driveway
Description:
I have included
a summary sheet

from Mr. Pierson

along with three quotes

received for this service.
XI.Q. Payment of LL7 Fees for 2021-2022
Description:
The Lockport Little Seven Conference participation fee for the 2021-2022 school year is $785.84. The fee covers the cost of awards, track officials (starter and police), salary of the two chairpersons, operating expenses (postage, office supplies), and all-star game expenses. In addition to this fee, we will also be responsible for paying officials and a scorekeeper for home contests.

District 91's prorated costs for the two sports is $422.56.
XII.A. Legislative Updates
XIII. Recognition of Retiree