August 22, 2022 at 7:30 PM - Regular Meeting
Agenda
1. Call to Order at 7:30 P.M.
3. Listening Session
Description: All speakers are asked to complete the Listening Session Sign-in Form including as much detail as possible and including a printed / written copy of your presentation if one is available. This is an opportunity for the Board to listen, the Board will not engage in dialogue. As a general rule, the Board will not comment on or respond to any comments made by speakers. Please do not include names of Greenbush Middle River employees or representatives, their title, or location in your remarks for your own legal protection and the legal rights of staff.

Each speaker will have five (5) minutes to speak: speakers may not roll their time to another speaker. Speakers will be timed and are asked to complete their comments in this time frame. Board members may ask questions if needed. Please begin your presentation by stating your name and topic only.
In the spirit of fairness to all participants, we request that you respect the format above. Thank you for taking the time today to attend this meeting and share your concerns and suggestions.
Members of the public may wish to email Board [listening session] communication(s) to <info@greenbush.k12.mn.us>
4. Recommendation to add items to the agenda from Board members or School Administrators
5.1. A motion was made by ____________________, seconded by ____________________ to approve the agenda of the August 22, 2022 Regular Board Meeting as presented/amended.
6.1. A motion was made by ____________________, seconded by ____________________ to approve the minutes of the preceding regular meeting of July 18, 2022.
7.1. A motion was made by ____________________, seconded by ____________________ to approve the payment of bills check #39481 through #39540 for a total of $323,150.23 and Purchasing Card electronic payments dated July 6, 2022 and Electronic Funds Transfers as submitted.
Description: attachments
7.2. Treasurer's Report
Description: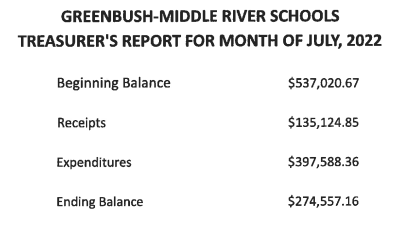 7.3. Greenbush Middle River School District Budget to Actual Expenditure Report
Description: Budget consists of 6 fund balances:

o 01 General Fund
o 02 Food Service
o 04 Community Services
o 07 Debt Redemption
o 08 Scholarships
o 09 Student Activities
• *see attached
8. Significant School Events and Communication:
8.1. Accept donation of student desks
Description: Former GMR School Supt. Mr. Tom Jerome is the current Supt. in Roseau. As a part of their current construction program, the school is replacing all of its high school furniture. Supt. Jerome offered NW Schools the opportunity to have gently used desks.
GMR obtained 100 desks (with chairs) for use in High School classrooms. Additional appreciation is extended to Mr. Cameron Olson, Roseau Buildings & Grounds Supervisor [and GMR graduate] and to Mr. & Mrs. Tony Fichter (Techniques / 4 Quality Air supplier [in Roseau] for GMR HVAC air filters) for donating cargo truck usage for hauling desks.

Motion by Board member ________________ and seconded by ________________ to accept a donation of used high school student desks and chairs from the Roseau School District.
9.1. Resolution calling for a School Board election during the Nov. 8, 2022 General Election
Description: In July, notice of Filing Dates for Election to the School Board of ISD #2683 was published in the Middle River Honker and Greenbush Tribune.

Attached is the Board resolution calling for a School Board election during the Nov. 8, 2022 General Election.
9.2. School Meals Program
9.2.a. Re-instate Cost-based School Meal Program
Description:
As reported during the June 27, 2022 regular Board meeting...
"School Meals have been at no cost to students since the on-set of Covid-19 (2019-2020) through the conclusion of the 2021-2022 school year. Federal waivers permitting universal meals are set to end this (2021-2022) school year. Districts nationwide have benefited the past two years from the U.S. Department of Agriculture's pandemic-era waiver authority to provide free meals to all students regardless of income.
The June 30, 2022 deadline is nearing for Congress to extend the USDA's ability to keep universal meals and other waivers assisting school nutrition programs.
If the waivers do not continue, families nationwide will have to start paying again for breakfast and lunch unless their children qualify for free or reduced-price meals. Families of students qualifying for free or reduced-price meals will still have to fill out applications.
For the past two years students have been getting free meals, so the interest in filling out application paperwork was not important,
Prices will likely increase to keep up with inflation and rising food costs.This will be a challenge, considering prices haven't risen for the past two years given the federal universal meal waiver."
Suggest Board Action: Motion by Board member ______________ and seconded by _________________ to re-instate a cost for school meals and increase student meal costs by 10 cents over the rate listed for 2020-2021. Adult meals are charged according to the minimum rate established by the MN Dept. of Education Nutrition Program.
| | | |
| --- | --- | --- |
| | Breakfast | Lunch |
| Kindergarten | $0.00 | $2.35 |
| Grades 1-6 | $1.50 | $2.35 |
| Grades 7-12 | $1.55 | $2.40 |
| Adults | $2.25 | $4.95 |
9.2.b.
Approve Incentive for Families to Submit 2022-23 Application for Educational Benefits
Description: Families who fill out the Application for Educational Benefits may qualify for Free or Reduced Price School Meals.

For the past two years students were getting free meals so the parental interest in filling out such an application was not important. The number of Approved applications held families with school meals AND determine funding for such programs as Title I (Math and Reading assistance for Elementary students) and e-rate (Federal aid for school internet connectivity).
To promote families to submit an application for educational benefits, the school administration recommends offering a "Punch Pass" for all applications received, whether the family is eligible or not. The "Punch Pass" would be for one (1) person to redeem up to three (3) Free Admissions to a GMR athletic event (some exclusions apply eg: not applicable for tournament event).
see attached website communication
see attached Parent Letter

Suggest Board Action. Motion by Board member _______________ and seconded by __________________ to approve a Free Activity Pass incentive for submission of an application of Educational Benefits for the 2022-2023 school year.


10.1. Renewal of Safe Return to In-Person Learning Plan
Description:
The Center for Disease Control (CDC) released up-dated COVID-19 guidance on August 11,2022.
The Covid-19 pandemic began in December 2019. As school systems start the third school year affected by the pandemic, COVID-19 safety precautions have evolved from a strict approach in the early days to a more relaxed but cautious attitude.
The updated guidelines for individuals, communities and healthcare settings are part of CDC efforts to streamline pandemic safety recommendations that continue to emphasize vaccines for all, isolation for those who are sick, and mask wearing for those exposed to the virus, according to a CDC news release.
This guidance acknowledges that the pandemic is not over, but also helps us move to a point where COVID-19 no longer severely disrupts our daily lives.*
* = [Primary] Source: K-12 Dive.com published on August 12, 2022

School COVID-19 safety policies have been developed according to local, state and federal guidelines and requirements. For example, one condition for receiving ESSER III awards (FIN 160 and FIN 161) was the development of a Safe Return to In-Person Learning Plan. Throughout the full period of the ESSER III award (Sept. 2024), school districts must review at least every six months and, as appropriate, revise their plan for the safe return to in-person instruction and continuity of services.

As a whole, schools across the state are in a better position than in the past 3 years with vaccination, boosters, masking, testing and improved ventilation. The pandemic isn't over but with the improvements above it is hoped it will no longer severely disrupt our lives.

Attached is the

2022-2023 Safe Return to In-Person Learning Plan

for the Greenbush Middle School District




as of August 22, 2022
Students, Staff and the general Public should feel confident that this year will be a little bit more normal, but there is a degree of cautious optimism because (health) conditions can change quickly.
Suggested Board Action: Motion by Board member _____________ and seconded by _________________ to implement the 2022-2023 Safe In-Person Learning Plan for the Greenbush Middle River School District as of August 22, 2022.
10.2. Ratification of Non-licensed Employee Agreements
Description: Each non-licensed employee group's employment Agreement expired on June 30, 2022, they include:

Food Service
Transportation
Buildings and Grounds
Technology Coordinator
Office Support
Business Manager

Board representatives (J. Melby, A. Harder, and C. Howard) met with each employee group in late July / early August.
In general, employees with hourly compensation were increased with an equity adjustment to be competitive with local job market conditions. Non-licensed employees who are salaried will see an increase in compensation of 2.00% in 2022-2023 and 2023-2024.

Suggested Board Action: Motion by _______________ and seconded by ______________ to approve en masse employment Agreements with all non-licensed employee groups as recommended by Board representatives assigned to the non-licensed negotiations committeee.
10.3. Approve Substitute Teacher Rates of Pay
Description: Board representatives for non-licensed employee groups reviewed substitute teacher rates of pay. A comparison of GMR with other NW MN Schools indicated GMR was at the lowest amount. To stay in line with other schools in NW MN (who GMR may compete for substitutes) Board representatives recommend the following substitute teacher rates of pay effective with the 2022-2023 school year.

$130 per day
$70 per 1/2 day

Motion by Board member __________________ and seconded by _______________ to increase the rate of pay for substitute teachers at $130 per day substitute teaching or $70 per 1/2 day substitute teaching.
10.4. Policy Up-dates
Description:
School Board Policies are posted on the GMR School website. Policies provide a guidepost or a comprehensive legal guide to be used in the efficient management of all aspects of a school system. Past, present and future school board policies are a joint product of the Minnesota School Boards Association (MSBA) and the Minnesota Association of School Administrators (MASA).
All model policies have been carefully examined by the law firm Ratwik, Rozak, and Maloney to insure compliance with federal and Minnesota laws.
MSBA provides a Policy Service to its member districts. Most school districts do not have the time and personnel to develop a comprehensive policy manual that includes policies, administrative regulations, and forms organized into helpful categories. In addition, school districts would require substantial legal assistance to develop policies on their own.
School District Policies by category
Series 100 School District
MSBA recently released a few up-dated policies which they recommend to be approved by MN School Boards prior to the start of the school year.
School Board Policy 208 states...
If a policy is modified with minor changes that do not affect the substance of the policy or because of a legal change over which the school board has no control, the modified policy may be approved at one meeting at the discretion of the school board.
10.4.a.

Policy 416 - Drug and Alcohol Testing
Policy 418 - Drug-Free Workplace/Drug-Free School
Policy 524 - Internet Acceptable Use and Safety Policy
Description: Policy 416 and Policy 418 have technical statutory language changes associated with the legalization of medical Cannabis

Changes to Policy 524 (Internet Acceptable Use and Safety Policy) relates to student data privacy (technology vendor access to student data). Technology vendors are responsible for complying with MN Data Privacy Law(s) [eg: NOT releasing Student Data to non-school vendors.
In addition, Policy 524 limits un-supervised computer screen time in Kindergarten classrooms.

Additionally Policy 524 addressing a new statute [124D.166] Limiting on Screen Time for Children in Preschool and Kindergarten. A child in a publicly funded preschool or kindergarten program may not use an individual-use screen, such as a tablet, smartphone, or other digital media, without engagement from a teacher or other students. This section does not apply to a child for whom the school has an individualized family service plan, an individualized education program, or a 504 plan in effect.

Suggested Board Action: Motion by Board member _________________ and seconded by _______________________ to adopt "en masse" the revised model school board policies 416, 418 and 524 as recommended by the MN School Boards Association.
10.5. GMR Staffing for 2022-2023
Description: With the first day of school two weeks away the GMR School is fortunate to have a fully licensed teaching staff in place.

GMR Welcomes two new licensed teachers:

Mrs. Kaitlynn Creviston - 2nd Grade
Mrs. Elizabeth (Beth) Brandon - Kindergarten

Internal Transfer effective in 2022-2023: Mrs. Deb. Koebernick from 2nd grade teacher to H.S. Special Education Teacher.

GMR Welcomes three new Para professionals to its staff:

Gracie Brandon
Michael Diaz
Heidi Pulk

Pending Board Approval, GMR Welcomes the return of licensed School Social Worker Mr. John Lee


10.6. Tax Credit for School Supplies (Parent & Teacher)
Description:
As parents prepare for the upcoming school year, the MN Dept. of Revenue asks schools to
spread the word
to families about state tax programs that help pay for education expenses
The
Minnesota K-12 Education Subtraction
and the
K-12 Education Credit
. Many families do not know about, or take advantage of, these valuable tax benefits.
These benefits can reduce parents' taxes and increase their refund, but only if they
save their receipts
.
For more information, parents are encouraged to visit the MN Dept. of Revenue website
<
www.revenue.state.mn.us
> and type
K-12 Promotional Materials
in the Search box.
see attached
=========================
For the first time in 20 years, the Internal Revenue Service is increasing the deduction limit for the amount of money teachers spend on school supplies, the agency has announced.
Teachers will now be able to deduct up to $300 of out-of-pocket classroom expenses in 2022, up from the $250 that has been set since the incentive first started in 2002.
"The limit will rise in $50 increments in future years based on inflation adjustments," the IRS said.
Eligible educators include K-12 teachers, principals, teachers' aides or counselors who spend more than 900 hours at the school during the academic year. Public and private school educators can benefit.
Eligible educators who are married to another eligible educator and file a joint tax return can deduct up to $600 in qualifying expenses, but still no more than $300 per spouse. Educators who do standard deductions also qualify.
The limit is still $250 for those who are filing their 2021 taxes
10.7. Approve Sharing Services Agreement for Licensed School Social Worker
Description: Shared Services with the Badger School District for School Social Worker:


Suggested Board Action: A motion was made by Board member ____________________ and seconded by ____________________to approve sharing two days per week with the Badger School District for licensed School Social Worker Services. Forty-percent (40%) of a 185 duty day contract in accordance with the Employee Collective Bargaining Agreement between the Badger Education Association and the Badger School Board.

10.8. Set date for Truth-in-Taxation School Board agenda item
Description: In past years, State law required a [School] Truth-in-Taxation Hearing be held separately from other School Board meetings. That rule was repealed during the 2009 legislative session. The new law requires School Districts to discuss the school tax levy at a regularly scheduled meeting and to allow the public to speak as it pertains to that agenda item. The Board must allow time for a presentation as well as time for public feedback. The levy can then be adopted.

The [abbreviated] Truth-in-Taxation calendar indicated below refers to taxes levied in 2022 and payable in 2023 for use in the 2023-2024 school [budget/fiscal] year.

Sept. 30 Deadline for school boards to certify proposed property tax levies to home county auditor.

Nov. 24 Deadline for county auditor to prepare and county treasurer to deliver by mail a notice of proposed property taxes for all taxing authorities to each taxpayer.

After November 24, 2022, but before final levy is adopted:
Districts are required to discuss the Payable 2023 Levy and 2022-2023 fiscal year budget at a regularly scheduled board meeting and allow the public to speak.
- The meeting must take place at 6 p.m. or later.
- The district may adopt the final levy at the same meeting.

December 28, 2022 Deadline for school districts to certify final adopted levies to home county auditor

Suggested Board Action: Motion by board member _________________ and seconded by ___________________ to approve the regular December 19, 2022 school board meeting to include School Taxes Payable in 2023 as an agenda item within said meeting.

10.9. Board Approval to dispose of obsolete equipment and materials
Description: With the addition of two (2) school buses [purchased with Federal COVID funds] in the last two years, the Transportation Director would like to remove one (1) school bus from the Transportation Fleet. The route bus to be sold is in disrepair and not able to be certified for student use by the MN Dept. of Transportatoin (DOT).

Effective use of school building space (eg: storage availability) will at times require disposal of obsolete equipment and material(s). Program supervisors have developed a list of items to dispose. Protocol for disposal of obsolete equipment and materials will largely follow the model MSBA Policy [802] for disposal of obsolete equipment and materials.

Suggested Board Action: Motion by ________________ and seconded by ____________ to approve disposal of obsolete equipment and materials in accordance with MSBA Policy for disposal of obsolete equipment and materials.
10.10. Board acceptance of Milk Bids

Motion by Board Member _______________ and seconded by ___________ to approve the 2022-2023 milk bid submitted by Prairie Farms
Description: Motion by Board Member _______________ and seconded by ___________ to approve the 2022-2023 milk & daily products bid submitted by Prairie Farms
11.1. Superintendent
Description:

11.1.a. Start of the School Year - School Facility Improvements
Description:
Facility Improvements:
attachment
11.2.a. Summary Report on Joint Sports Meeting held on August 15, 2022
Description:
Joint Sports Board meeting minutes
Proposed change in cost-sharing agreement with Badger sports cooperative

JSB proposes that each district will pay a percentage of costs for each sport based on the percentage of Badger or GMR participants in each sport each season.
11.2.b. Summer School
Description:
17 K-6 students attended regularly; 21 attended.

"The only thing I don't like about summer school is that it's over too fast."

6 regular staff members and additional substitutes operated small groups of students rotating among "stations" for math and literacy maintenance throughout the summer.

New format: Instead of "one-shot" in the summer - on-going schedule to prevent "summer slide." Monday-Thursday mornings for 6 weeks throughout June, July and August, avoiding County Fair Week and 4th of July week.

Thank you to Stacey Dallager, Hanna Black, Trina Gust, Erika Howell, Deb Koebernick, Judy Pulczinski, Bridget Stenberg, Robin Waage, Trish Waage for this summer commitment as well as all the planning hours last spring.

Collecting information from this summer's experience to plan for next summer.

Funding from one-time money related to COVID learning loss; appears that we might have enough funding for next summer. Summer school is contingent on finding staff - big commitment.
11.2.c. Organizations using School Facilities during summer months
Description: 4-H partnered for a week in August in our building
12. Adjournment
Description:
Motion by__________________ Second by ____________________ to ADJOURN
13. Communications
Description:
Teacher Workshop Days - August 29 - Sept. 1
GMR School Open House - August 31
First Student Day - Sept. 6
MSBA Advocacy Tour Meeting: 6:30 pm on Sept. 14 in TRF (Lincoln High School)

MREA will host online member meetings in September to discuss key E-12 issues for 2022 and gain feedback from member educators, school board and administrators on needs and priorities for the next legislative session. Each session will cover the same topics.

Regular September School Board Meeting - Sept. 19, 2022 @ 7:30 p.m. in GMR School Library
On site 2021-2022 School Financial Audit - Sept. 19-21
Web Viewer
<< Back to the Public Page for Greenbush Middle River ISD 2683